Other publications you may like...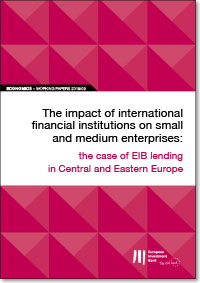 An assessment of the impact of funding by the EIB on the performance of more than 5,000 SMEs in eight countries in Central and Eastern Europe during 2008-2014.
This paper uses survey data to to analyse the reasons for subdued corporate investment activity in Romania.
This study disentangles the effects of borrowers' and lenders' financial weakness on the satisfaction with the loan contracted, using matched survey data of non-financial firms with their financial data and the financial data of their banks.